Overall Hotness: 8/10
Face: 8.5/10
Body: 7.5/10
Legs: 7.5/10
Personality: 8/10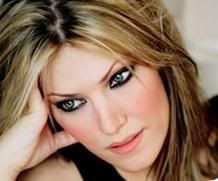 In my search for the hottest news anchors I was pointed by several sites to this beauty, her name is Eva Kaili. Eva is a weekend news anchor for Mega Channel or Mega TV as they call it in Greece. She is a real bombshell, diva-like and very striking. You can't take your eyes off her when you watch her, despite not understanding a freakin' word she is saying.

When I watch her, I keep thinking of Faith Hill, and I used to have a massive crush on Faith (still do, but not so much now). She has big beautiful eyes and nice long straight blond/brown hair. A couple of clips on youtube I saw shows that she has a pretty full figure (which can be a good or bad thing depending on your taste) with nice size boobs. Her legs, due to her fuller figure, I'm guessing are probably average (let me know otherwise).

One of the things that I'm not a really big fan of is the heavy dark eye-liner all around the eyes. I know she's trying to accentuate her big beautiful eyes, but I think subtle is better than over-doing it. I'm not sure about her personality as I don't understand Greek, but Greek isn't the most easy to listen to languages to begin with.

Eva maintains a wonderful website, naturally it's in Greek. Here is what is written on her Wikipedia page (which I assume was translated from her official website):


Eva (Evdoxia) Kaili (Greek: Εύα Καϊλή), (born October 26, 1976) in Thessaloniki), is a Greek television news presenter and politician.

In 1998, as an undergraduate of the Aristotle University of Thessaloniki she took part as candidate of PASOK party in the local elections for the Municipality of Thessaloniki and became town councillor. During the 2004 Greek national elections, Kaili was a candidate for Member of Parliament in the first region of Thessalonika and ranked 6th within PASOK's candidates; however, she didn't became an MP.

She is an Architect also, and now, a student at the University of Piraeus, studying international and European studies.

Since 2004, she has been employed by Mega Channel as news presenter on weekends.

What about that name, Evdoxia. That is a beautiful name. Imagine introducing your wife/gf as Evdoxia. She once ran for parliament which means she has political aspirations, I like. She is an architect, wow.
Here is a clip I found on Youtube on Eva, I like this one because it shows her whole body and she's laughing and having a good time being interviewed,
Here are some pictures of this greek goddess,