Overall Hotness: 7.5/10
Face: 9/10
Body: 7/10
Legs: 7/10
Personality: 8/10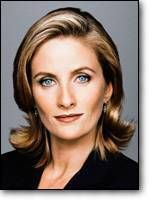 There are a few people out there who definitely have an Alex Witt fetish, and I don't blame them. She probably has the prettiest face on TV. She can melt you with her eyes. I personally don't have a thing for her, but she's still smoking hot. I don't watch MSNBC that often but when I do, I usually stay when Alex is on.

Definitely what draws you to Alex is her eyes. She also has nice flowing blond hair that looks stunning. I think you'd be hard pressed to find a prettier face doing news in the country and probably the world. And she's almost 50 which is absolutely amazing that she can look so fine (ya, I know, makeup) at her age.

Couple of things that may make you like Alex more or less depending on what you like. She's got a little more junk in the trunk and she has slightly thicker thighs. Her breasts are also a little small in proportion to her curvy body. Nothing major here, but that's why she doesn't make it to my upper echelon of news babes.

This is her biography from the MSNBC website:


Witt joined MSNBC in January 1999 and has also anchored several MSNBC telecasts including "Morning Line," "Morning Blend," "Home Page," and "MSNBC Adventurer". Witt substitute anchors weekday primetime telecasts including "Countdown with Keith Olbermann" and "Scarborough Country". Witt anchored a week of primetime shows in the wake of the Asian Tsunami in 2004, and has covered a variety of stories including the 2000 and 2004 presidential elections, the California gubernatorial election electing Arnold Schwarzenegger in 2003, the terror attacks on America on September 11, and the war on terrorism in the Middle East.

Witt joined NBC after reporting for WNYW-TV in New York City from 1996-98, where she covered stories throughout the New York metropolitan area.

In California, Witt was an anchor and reporter from 1990-92 at KCBS-TV, covering the news in central California, south of San Francisco and north of San Luis Obispo. Previously, she worked behind the scenes in Los Angeles newsrooms including KCBS-TV, KNBC-TV, KABC-TV and as a field producer in the Burbank bureau for NBC News' Today.

Witt graduated from the University of Southern California, majoring in journalism, and from the prestigious Marlborough School for Girls in Los Angeles.

In this video, you get to see a little bit more of Alex and her body,
This one shows her slightly thicker calves, still sexy though,
Some pictures showing off Alex's amazing facial features and those bright eyes,