Overall Hotness: 8/10
Face: 8.5/10
Body: 7.5/10
Legs: 8/10
Personality: 8/10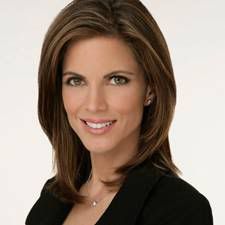 I was happy to see when NBC Today decided to make Natalie Morales a permanent part of the show a year or so ago. I liked Campbell Brown when she was at NBC and to be honest I thought she was the only real hottie that NBC had there. Katie Couric was OK, and I'm not a big Ann Curry fan. But when Natalie showed up permanently, I started to watch NBC's Today Show a little more. I really perk up when she fills in as a co-host for Ann.

What can you say about Natalie, she is flat out gorgeous. She reminds me of that really hot soccer mom on your kids soccer team. You know the one that shows up with the kid that is too short and slow but the coaches play the kid a lot anyways because, well the mom is super-hot. What makes Natalie sexy for sure is her hair. Makes you want to get up close and stick your nose right in it and smell it. She has really big beautiful eyes too. Her body is decent, and her legs are good but she almost always wears stockings.

If there was any downside to Natalie is that she looks a lot older than she really is. She's in her 30s I think but a lot of times she comes across as 40 or over. Some say she's a Katie Couric clone which I kinda see a little, but obviously she's way hotter than Katie.

This is her biography from the NBC website:


Natalie Morales joined "Today" as a National Correspondent in February 2006. Morales also co-anchors for the program and fills in regularly at the news desk. Prior to joining Today, she was an anchor and correspondent at MSNBC since March 2002. While working for Today and MSNBC, she has contributed to NBC News' coverage of the 2006 Winter Olympics in Torino and the 2004 Summer Games in Athens, as well as several major breaking news stories including Hurricane Katrina and the recovery efforts; the Tsunami disaster; the death of Pope John Paul II; the Battle for the White House in 2004; Operation Iraqi Freedom; and the Columbia Shuttle explosion. Hispanic Magazine named her one of the "Top Hispanics to Watch" in 2005 and one of the "Top Trendsetters" of 2003.

Prior to joining MSNBC, Morales spent three years at NBC's WVIT in Hartford, Conn., where she was the morning co-anchor and a correspondent until 2002. She also co-hosted and reported for the Emmy-nominated documentary, "Save Our Sound, " a joint production with WNBC-TV New York on preserving the Long Island Sound. Morales began her on-air career at News 12 - The Bronx, where she also shot, produced and edited her own reports. Early in her career, she spent two years working behind the scenes at Court TV, and another two years in finance before making the jump to journalism.

Morales, who speaks Spanish and Portuguese, was born in Taiwan and spent much of the first 18 years of her life living overseas in Panama, Brazil and Spain as an Air Force "brat."

She holds a Bachelor of Arts degree from Rutgers University, New Jersey, with dual majors in journalism and Latin American studies. Morales was a member of Phi Beta Kappa and graduated Suma Cum Laude. She currently resides in New Jersey with her husband and son.

This video shows Natalie's pretty face,
This one is a compilation of Natalie clips showing off her tight body,
Some pictures of the very photogenic Natalie Morales,