Overall Hotness: 7.5/10
Face: 7.5/10
Body: 7.5/10
Legs: 7.5/10
Personality: 8/10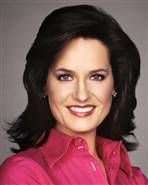 One of the hotter anchors on MSNBC is Contessa Brewer. First off, I love her name, Contessa, that's just an extremely sexy name, her parents did good with that one. It's one of those names where if someone introduced their wife as "Contessa", you'd immediately have a visual of a hot babe, then you actually see her and you are floored. I like the way she talks too, the Wisconsin/Chicago accent is really cool. A friend of mine is from Wisconsin and he talks the same way.

As for Contessa's visuals, she is very hot overall. She has a pretty face that doesn't require makeup to make her look hot. In a way, she's sort of looks like Courtney Cox. The only thing I don't like about her face is that it's kind of boxy, round is better. Her body isn't great, but good overall, very slim and tight. She doesn't show off her legs much but when she does, they look good, she appears to be pretty tall.

One of the best things I like about Contessa is her personality. Whenever I see her on MSNBC she's always punchy and intelligent. She's feisty and isn't afraid of the more controversial topics. She definitely doesn't appear diva-like and could have an intelligent conversation with. As far as the whole Don Imus feud she had going on, I don't know who Don was talking about, but Contessa is definitely not "fat".

This is her bio from the MSNBC website:


Contessa Brewer joined MSNBC in September 2003. She serves as an anchor for MSNBC.

Brewer previously anchored weekend evening newscasts for WTMJ-TV in Milwaukee, Wis. She also served as an anchor and reporter for Palm Springs, Calif. and at KRNV-TV in Reno.

Brewer is a magna cum laude graduate of the S.I. Newhouse School of Public Communications at Syracuse University, where she holds a bachelor of science in broadcast journalism.

Brewer currently resides in New York City.

This is a recent clip with Contessa discussing the difficulties of watching her Packers against the Cowboys (video launches a separate window),

Many won't see Pack, 'Boys game
This is a funny clip with Contessa caught in an awkward teleprompt where she doesn't want to read "I'm not gay",
Here are some nice pics of Contessa, the last one is an informal one where she was at a charity event,