Overall Hotness: 7.5/10
Face: 7.5/10
Body: 7/10
Legs: 7.5/10
Personality: 8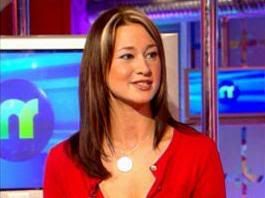 English TV Viewers have had the pleasure to watch the sweet and sexy Ellie Crisell on the show, Newsround on CBBC. Ironically, her show is a 10-minute news tele-cast geared towards children ages 6-12. I wouldn't be surprised if the male 18-24 demo showed up prominently in the ratings. Ellie has started to make some appearances on CBBC's regular newscast 24 though. Still, I think it's probably better if she stays on Newsround as she probably has more freedom to wear whatever clothes she wants.

Anyways, Ellie is extremely cute, I wouldn't necessarily call her super-hot. She's got the former college girl look, as in the girl you used to go to school with that was semi-hot and slept with once after a drunken night of partying, but of course now that she's on TV she seems so much hotter than before. When you watch and listen to Ellie, there's something about her that makes you think that she's really kinky, she's definitely into the dirty stuff. I guess that's the appeal of Ellie.

Ellie definitely has the pretty face, it's her best feature. But I didn't rate her very high for her body as it seems she is slightly flat-chested and she doesn't show much of her legs. Though I love her accent. The British accent is so neat, you could be cursing and it would still sound so sophisticated. I once dated an older Australian woman and I could listen to her talk for hours.

Here is Ellie's website, and here is her bio from wikipedia:


Ellie Crisell (born 1976 in County Durham, UK), is an English journalist and television presenter. Crisell currently works on the BBC's children's news bulletin program Newsround on CBBC, Newsround Extra; and as an occasional presenter on BBC News 24.

Crisell attended Dame Allan's Girls School, Newcastle upon Tyne, then going on to the University of Birmingham, to achieve an MA in Broadcast Journalism at City University of London.

Crisell worked for the Mail on Sunday for a year, and a year on radio. She then worked for her local regional broadcaster Tyne Tees Television as a newsreader.

Ellie Crisell started as a Newsround presenter in February 2003 after Becky Jago, the previous leading presenter, decided to leave. Notable stories which Ellie was personally involved in reporting included the 2004 Indian Ocean earthquake in which she travelled to Indonesia to see in person the effects of the disaster. She also travelled to Athens in Greece to give daily reports on the 2004 Summer Olympics.

Away from children's news, on 12 September 2006 Crisell appeared on Newsnight, her first non-sports based appearance on BBC News adult oriented output. She has also appeared on BBC One's breakfast news output, BBC Breakfast, presenting news and updates from the Olympics in Athens. In November 2006 Crisell started occasional presentation for BBC News 24

It was hard to find video clips of Ellie but I found a couple. None really show much of Ellie, but at least you can hear her sexy British accent.
The creator of this video is having fun with Ellie's co-host,
I grabbed a bunch of pictures of Ellie, enjoy...