Overall Hotness: 8/10
Face: 7.5/10
Body: 7.5/10
Legs: 7.5/10
Personality: 8.5/10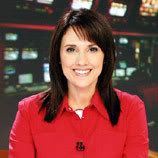 The land down under has a few hot news babes so I ventured out to see what I would find and it didn't take me long to find Chris Bath of 7News in Sydney. This Aussie beauty seems to have a terrific personality and she's really hot to boot.

When you talk about Australian's it's hard not to notice their accent. Specifically for females, the Australian accent is really sexy. I really liked the Dancing of the Stars segment Chris did, she is a really good dancer, she even does the splits, and she's like 40. That is amazing.

Mostly what I like about Chris is her personality, she isn't afraid to crack a few jokes, chat it up with the sports guys and she has a great smile. As for the rest of Chris, she's not bad to look at whatsoever. She seems to be a little on the short side. She has really cute rosy cheeks.

There is really cool website about Chris Bath here, and this is what is in her bio section:


Anchor of the Seven Network's national 10:30am Morning News, Chris Bath began her career as a cadet reporter at Sydney's Radio 2UE, getting the job during her final year studying communications at Charles Sturt University in 1988.

She stayed at 2UE for a year, then moved to regional television at Prime in Albury, as a reporter and presenter. In 1991, Newcastle's NBN Television approached the then 23-year-old to sign up as a reporter and host its evening news, making her one of Australia's youngest presenters on metropolitan TV.

Chris remained at NBN for five years before joining Seven News in Sydney in 1996. In 1997, she was juggling dual roles as Sunrise anchor and host of 11AM, before being promoted to Seven's Late News. The same year, Chris became the presenter of Face to Face. In 1998, she joined Witness and travelled the world as a correspondent. After taking a well-earned break in Italy, Chris returned to Late News in January 1999.

She was part of Seven's host team for the Sydney 2000 Olympic Games and co-hosted the prelude to the Opening Ceremony live on stage at the Olympic stadium, while seven months pregnant with her first child. After having son Darcy in late 2000, she returned to political interviewing in 2001 as anchor of Sunday Sunrise and stayed for three years.

Other career highlights include anchoring the Schapelle Corby verdict live from Bali and broadcasting live from East Timor in December 1999 during the Christmas concert for the peacekeepers. In 2004, Chris judged entries in the TV current affairs reporting and camera section for the prestigious Walkley Awards.

She spends her free time with her family and wrestling with her garden. Chris admits to a childhood love affair with ballet, studying with Miss Wendy, but has never ballroom danced in her life.

This clip is a cool 4 minute montage of Chris Bath highlights. Really shows her cool personality and cute face.
This clip is from one of her Dancing with the Stars performances, extremely hot,
Some hot pictures of Chris Bath in various poses,