Overall Hotness: 7.5/10
Face: 7/10
Body: 9/10
Legs: 7.5/10
Personality: 7.5/10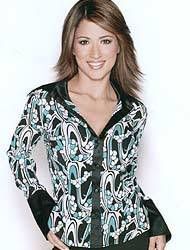 If you like women with curves in all the right places, then check out Despierta America on Univision out of Miami. That sexy weather babe is Jackie Guerrido. She has probably the best rack in all of TV news. Simply amazing breasts.

Overall, she isn't really that hot. But her tits are out of this world. She has a nice wide ass as well. She's one of those chicks that would really be good in bed, with all that goodness. Sex just isn't the same with bare-breasted flat-ass chicks. You need something to really grab on to. Jackie has that and more.

In terms of her face, I think Jackie used to be really hot. All the older pictures I've seen of her, she looks really good. I think as she's gotten older she's lost some of her good looks, but she still has that voluptuous body.

Her official biography is on Univision, but this is what her wikipedia page says:


Jackie Guerrido (born on September 24, 1970 (1970-09-24) (age 37) in Rio Piedras, Puerto Rico) is a television weatherperson and journalist.

Guerrido was raised and educated in San Juan, Puerto Rico. After graduating from high school, she moved with her family to the Bronx section of New York City.

Guerrido was offered a job on a morning radio show called El Vacilon de la Mañana ("Goofing Around in the Morning"), transmitted through "MEGA 97.9", by a producer who heard her doing a voice-over. She soon received an offer from the radio station "Romance 106.7 FM" in Miami, Florida, which she accepted.

Guerrido settled down in Miami and she joined the HBC Radio Company, after working at "Romance" for a year. There she was given the opportunity to co-host a radio program with the duties of broadcasting news and traffic conditions. Eventually, she was given her own music show at Salsa 98.3 FM. She also landed a job in television as a traffic reporter for Telemundo Channel 51, working for both the radio and television at the same time.

Univision took notice of Guerrido and offered her a job as a weatherperson on the TV show Al Amanacer de Noticias 23 ("Morning News at Channel 23"). She was totally unaware of what her job really required and took a course in meteorology at the University of Florida.

Guerrido is currently the weatherperson for Despierta America ("Wake Up America"), which is one of the most popular television programs among the Hispanic community in the United States, and she has been a weather reporter on Primer Impacto ("First Impact") with Barbara Bermudo. She is a student of journalism at the University of Florida.

In 2004, Guerrido was named the "Good Will Ambassador" of the Puerto Rican Day Parade celebrated in New York City. As of July 2007, she has been dating Puerto Rican Reggaeton singer/rapper Don Omar.

This is the standard clip of Jackie doing her weather thing on Despierta America, just look at that chest,
Oopsy, Jackie reveals her slit in this clip. She's nicely maintained though,
Here, Jackie attempts to show us her dancing abilities,
Breasts, and more breasts, Jackie Guerrido at her finest,