Overall Hotness: 8/10
Face: 8/10
Body: 7.5/10
Legs: 7.5/10
Personality: 8.5/10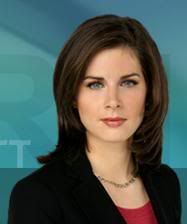 Move over Maria Bartiromo, there's a new hottie on Wall Street and you ain't got nothin' on this bombshell. If you follow stocks at all, no doubt you've noticed Erin Burnett on CNBC. The gal they call "Street Sweetie" has single handily boosted CNBC's ratings in the key 25-54 male demo to unprecedented levels. Erin brings something fresh and new to the scene, one that has become stale with the old and tired Maria Bartiromo and Becky Quick.

What I like best about Erin is that she's extremely confident, feisty, she doesn't hold anything back and she's not afraid to mix it up with the men, especially being in a male-dominated industry. She's like that really hot accountant in your office, really sharp and not afraid to put a man in his place. A lot of men find that extremely sexy, it's that whole S&M thing. It's hard to believe she was a farmer's daughter.

As for her features, it's hard not to notice her beautiful eyes, it's like looking into an endless ocean, very nice. Her body is decent, legs OK. She changes her hair every so often. I like it best when she wears a leather top, it goes really well with her hair, eyes, and face. Overall, she is hot, but it's her personality that sets her apart.

There is a Yahoo! stalking group that is dedicated to talking about Erin. If you're the stalker type you can join (it's over 500 strong). Here is here bio from the CNBC website:


Erin Burnett anchors CNBC's "Street Signs" (2-3 p.m. ET) and co-anchors CNBC's "Squawk on the Street," (9-11 a.m. ET) with Mark Haines.

Burnett joined CNBC from Bloomberg Television where she anchored two hours of programming daily. Prior to Bloomberg, Burnett served as Vice President at Citigroup, where she built an online financial news network targeted at institutional and retail investors.

Burnett also has worked at CNN as a writer and booker for CNN's "Moneyline." She began her career at Goldman, Sachs & Co. as an investment-banking analyst focused on mergers and acquisitions and corporate finance.

She was a member of the team awarded the 2006 Deadline Club Award for Business Reporting.

Burnett holds a Bachelor of Arts in Political Economy from Williams College in Williamstown, Mass.

This is a really recent clip of Erin in Washington talking presidential politics and the economy. As mentioned, she knows what she's talking about, cracks a few jokes, and dictates the discussion. I like...
This is a funny clip with the creepy Chris Matthews trying to hit on Erin who isn't all that flattered. Chris is such a bonehead,
I tried to find all the best pictures I could of Erin to date, enjoy...