Not exactly sure when she started at CNN, but she's a real looker all right. Her name is Poppy Harlow and she'll be anchoring CNN Money segments. Here is what it says in her bio on CNN's website,

Poppy Harlow is an anchor for CNNMoney.com based in New York. Harlow joined CNNMoney.com from Forbes.com where she worked as an anchor, reporter and producer for the Forbes.com Video Network. At Forbes.com Harlow covered the financial markets as well as luxury, travel, technology and energy. Harlow interviewed a number of Fortune 500 CEOs and business leaders while at Forbes.com.

Prior to working for Forbes.com, Harlow was an anchor and reporter for NY1 News' Local Edition. Harlow began her journalist career as an intern for CBS MarketWatch and an assistant producer for CBS Newspath.

Harlow graduated Magna Cum Laude, Phi Beta Kappa with a bachelor's degree in Political Science and Middle Eastern Studies from Columbia University.
Gotta love the name, Poppy. This one looks like a real keeper,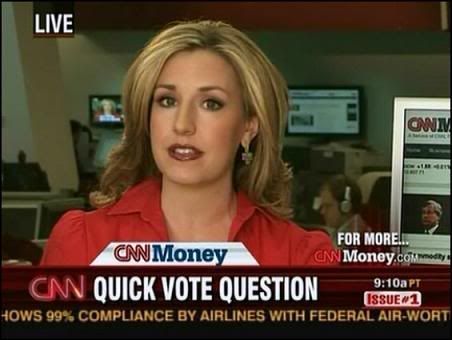 Screencaps courtesy of cnbcer and marauder at the Reporter Caps forum.