Overall Hotness: 8/10
Face: 8.5/10
Body: 8/10
Legs: 8.5/10
Personality: 8/10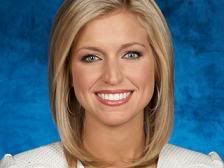 When Kiran Chetry left for CNN earlier in 2007, FOX went out and brought in Ainsley Earhardt from San Antonio to replace Kiran and hasn't looked back since. The South Carolina native is such a breath of fresh air. Her smile radiates and lights up the entire screen, her positiveness is infectious with everyone on the set. Ainsley is a slam dunk for FOX news. I agree, they should give Ainsley her own show.

If you were to look up 'southern belle' in the dictionary, they have should have a picture of Ainsley Earhardt. Like I said, I love her smile, she always looks like she's having so much fun, you can't not watch her. She has a terrific set of legs and when she wears a really tight top, you can see that she has a very nice set of breasts.

If you compare Ainsley and Courtney Friel, they are probably almost equal. I'd say that Courtney probably has a little more sex appeal than Ainsley but Ainsley would make the better wife.

Lastly, if you've never heard Ainsley on air, you're probably thinking South Carolina, dumb as rocks, like that Miss USA pageant contestant. Not so, Ainsley's got some brains to go with her beauty, definitely not just another talking head.

So, here is what her wikipedia page says:


Ainsley Earhardt is a correspondent for the Fox News Channel, where she provides live news cut-ins during the overnight hours.

She joined the network in 2007 after being a weekday news anchor at KENS-TV in San Antonio, Texas. Earhardt anchored weekday newscasts of KENS 5 Eyewitness News This Morning (5 AM-7:30 AM) and KENS 5 Eyewitness News at Noon. She worked for WLTX 19, a CBS station in Columbia, South Carolina from 2000 to 2004. While at that network, viewers voted Earhardt "Best Personality of the Year" in Columbia Metropolitan Magazine.

She has a bachelor's degree in journalism from the University of South Carolina and has received the Outstanding Carolina Alumni Award. While at the University of South Carolina she was a member of Alpha Delta Pi sorority.

Earhardt is also a guest contributor on the Fox News show, Red Eye w/ Greg Gutfeld.

This a really recent clip with Ainsley doing her thing in the morning on F&F,
This is another recent clip of Ainsley as well,
I sifted through a bunch of screen caps and other pictures to give you, the best of Ainsley Earhardt,