From the Weekend's Today Show on NBC, Amy Robach getting a tennis lesson from Pete Sampras. Reminds me of one of my favorite flicks, Tin Cup. "You gotta waggle, waggle, waggle, then let the big dog eat". From the first pic, looks like Amy's got a little tummy action going on, what's up wit dat??

Let me show you how it's done, honey,


"where's the ball?? Ahhh!!"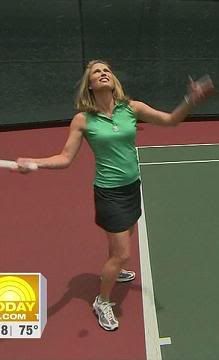 Screencaps courtesy of shad0w and modelhunter at the Wide World of Women forum.