Via ICN, FBN news babe Rebecca Gomez interviewed by Hispanic Magazine. Talking about Happy Hour being filmed at a bar, I love this one anecdote:

Gomez recounts one incident. Some FBI guys had lunch at noon, and stuck around; by 5 p.m., they had been drinking for a while. Award-winning actor John O'Hurley, who played J. Peterman on Seinfeld, was one of the Happy Hour's guests that day, promoting his latest children's book. The FBI crew started screaming at him on-air, "Mr. Peterson, where's George and Elaine?" Some celebrities, such as Whoopi Goldberg, like to hang out at the bar after finishing their segment. It's all part of the show's vibe.
Gogo looking hot yesterday,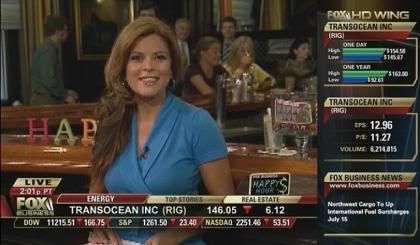 Screencaps courtesy of sabrina at the Reporter Caps forum.