From this morning's Breakfast w/ Robin Meade on CNN Headline News. Definitely looking very alluring as usual showing her nice breasts and the hosed leg look. She really is one incredible woman, doncha think?

Haven't I seen you somewhere before...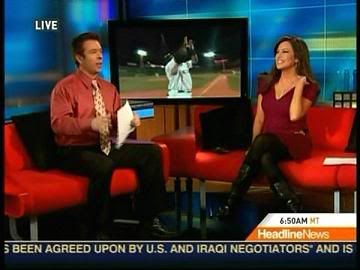 Ever watch Robin Meade on CNN Headline News and wonder whether she's appeared in anything other than "mainstream" media? Y'all Robin fans have probably already seen this, but since it's so damn funny (and sexy at the same time) I thought I'd post it anyways,


Screencaps courtesy of slashasterisk at the Reporter Caps forum.