Overall Hotness: 8/10
Face: 8/10
Body: 8/10
Legs: 7.5/10
Personality: 7.5/10



Like most people, the first thing you think of when you see Tamron Hall of MSNBC is that she is a Halle Berry clone. In many ways they are similar. Her hair, eyes, lips, skin, all very similar to that of Halle. And like Halle, I think Tamron hall is incredibly hot. She was outed a little while ago by some Chicago people that she had a boob job, probably just jealous that Tamron went national.

Obviously, now that you know her boobs are fake, they lose some appeal. I went out with a chick once that had fake boobs. When we went out at night, she looked fantastic, her cleavage was great, I would catch my buddies in the cleavage stare all the time. But when we got back home and were going at it, I could've sworn her boobs would tear off her chest the way they bouncing. They leave some pretty long stretch marks when they're bouncing around like that, can't be healthy.

Anyways, back to Tamron, she has such beautiful teeth. Most black people do, but hers are exceptional. I like the short hair too, very chic and sexy. She's got unbelievable eyes, really pretty. If I were to compare Tamron directly with Halle, I think I would still take Halle because Halle's just a tad cuter. Also there's her name, as someone posted on a forum, it sounds a little weird, like a building in college. "Psyc 101 has been relocated to Tamron Hall."

Anyways, this is what MSNBC has for Tamron's bio page:


Prior to joining MSNBC in July 2007, Hall spent 10 years at WFLD in Chicago, where she held a number of positions including general assignment reporter, consumer reporter, and most recently, host of the three-hour "Fox News in the Morning" program. She also anchored the weekday mornings and served as a noon anchor. While at WFLD, Hall covered several breaking news stories including one of Amtrak's most devastating accidents in Illinois and she secured a one-on-one interview with Sen. Barack Obama shortly before he announced his run for the presidency. Hall was nominated for an Emmy for her consumer report segment, "The Bottom Line," which she launched in 1999. Before joining WFLD, Hall spent four years as a general assignment reporter at KTVT in Dallas. She began her broadcasting career at KBTX in Bryan, Texas, as a general assignment reporter.

Hall received a Bachelor of Arts in Broadcast Journalism from Temple University. She is a member of the National Association of Black Journalists. Hall is also very involved in charitable organizations that help women fight abuse and organizations that work to end illiteracy. Hall is a native of Luling, Texas.

Hall lives in Manhattan.

I was able to download this clip from a poster on the ReporterCaps forum,
This is another short clip but show's Tamron's legs and body a little,
The best part, here are the pictures, Tamron loves to wear funky outfits,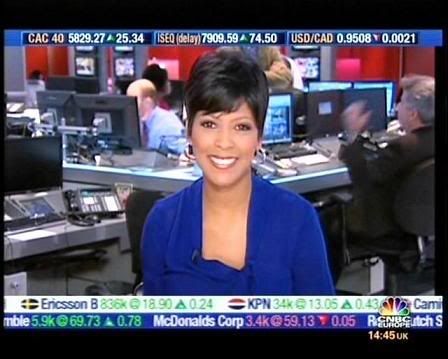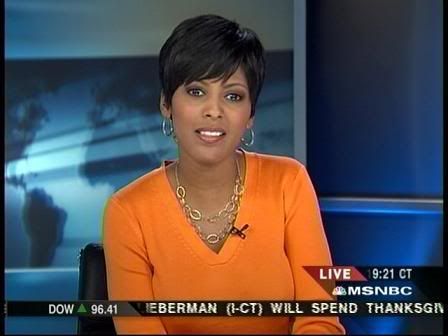 Girl, what the heck were you thinking when you put this top on in the morning??
This is less funky, but still a little whack,
Wow, you gotta show us more of that wicked body, girl,