I've seen her off and on, but I sure wished I caught this live yesterday. ESPN hottie Nicole Manske interviewing President Obama on the White House lawn talking about welcoming NASCAR Sprint Cup champion Jimmie Johnson. I think both Obama and Brad were hot and heavy over Nicole next to them, can't blame them, she's bangin' with the short skirt and cfm heels.

Obama is impressed with Nicole,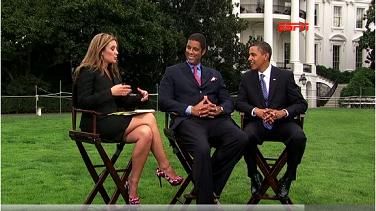 Click here, if you want to see the whole video.

Screencaps courtesy of chillyspimpin at the Wide World of Women forum.