Weekends are always tops on FOX. From FOX and Friends yesterday, legal hotties Mercedes Colwin (brunette on the right) and Lis Wiehl (blonde on the right) light it up with a mega hot leg duel. I'd say, Lis wins this one pretty handily, wow. How'd you like to be that guy in the middle.

Mercedes and Lis are wickedly hot together,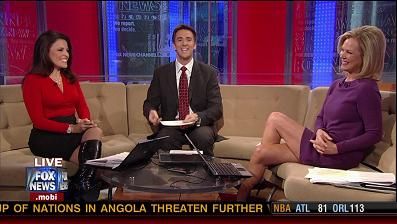 Screencaps courtesy of shadow at the Hi-Def News Caps blog.