Overall Hotness: 7.5/10
Face: 8/10
Body: 7.5/10
Legs: 7/10
Personality: 7.5/10


Perhaps of all the Canadian National TV news babes, my personal favorite is Diana Swain. She used to a regular doing the weekend 1-hour primetime National news broadcast but I see her sparingly now. I believe she still subs in when Carole MacNeil is away though. She holds a regular gig at CBC Toronto as their 6 O'Clock news anchor. There are plenty of hot National TV news babes in Canada to choose from but I just think Diana not only is extremely hot, but she knows a thing or 2 about what she's reporting. She probably has the prettiest face on Canadian TV.

Of all the different ways she styles her hair, I like the short curly look on Diana. She doesn't wow you with her looks, but she's like that quiet girl in class that all of a sudden is really hot because she's done up nice.

I actually saw Diana in person once in Toronto. I was in Lester B. Pearson airport in transit between Montreal and Vancouver. I came out of the secure area to meet a buddy of mine to share a beer for an hour or so. I was waiting there when I saw a bunch of CBC people, I think they were filming a security story or something because there was an RCMP dude. Anyways, Diana was there talking with some airport people. She definitely looked hotter in person than on TV. She's really tall too, and though you can't tell on TV, but she has a wicked body. She was wearing tight white pants and I had a clear view of her butt, very nice.

Anyways, here is what her bio page on CBC says:


Diana Swain is the host of CBC's suppertime news program, CBC News at Six/Toronto and has a number of other network assignments. As host of Face to Face on CBC Newsworld, Swain interviews newsmakers from around the world. She also frequently appears on CBC's The National as substitute host.

After working in private radio and television, Swain arrived at Canada's public broadcaster in 1990. She quickly moved from local news reporter to The National as a correspondent in 1993, covering Manitoba and Saskatchewan. She then anchored the award-winning local news program in Winnipeg until 2001.

Swain became co-host of CBC's investigative news magazine program, Disclosure where her work took her to stories around North America, Europe and Central America. After three seasons with Disclosure, the program's run was completed and Swain moved to her present assignments with CBC.

Swain's work has been recognized at the New York festivals in the News Documentary category and won the annual media award from B'Nai Brith Canada for human rights reporting in 1991. Her work has twice been included in winning submissions for the Michener Award, Canada's award for meritorious public service in journalism.

Swain is a five-time Gemini nominee, recognized for her reporting, writing and hosting on CBC News programs. She won the Gemini for Best News Anchor in 2000.

Diana Swain and her family live in the Greater Toronto area.

Since, I'm short on pictures, I thought I would post 3 clips. This first one is a recent one,
This one is from a conference Diana was speaking at. The lack of eye makeup makes her look a little tired and beatty,
This last one looks to be about 10 years old. But it shows Diana in her formidable years,
Sorry for the lack of pics, but I will definitely post more if I find them,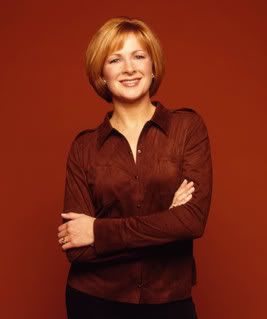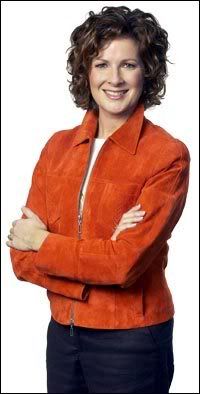 I like this one just because it's kinda neat,