Taken earlier this month at the Rockefeller Center Tree Lighting Ceremony in New York, this is Darlene Rodriguez of WNBC. I love how the blue dress just clings to her tight body, the leather boots are a nice touch too. I love her pose too, it's the I'm too hot for you pose that sucks you into the picture.

Darlene strikes a hot pose,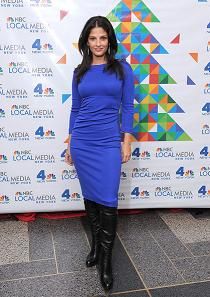 Photo by Michael Loccisano/Getty Images. Credit Tip: socomoddjob the Wide World of Women forum.