Overall Hotness: 8/10
Face: 8.5/10
Body: 8/10
Legs: 8/10
Personality: 8/10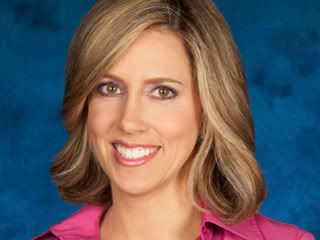 If you've been reading this blog for a little while you'll know that I definitely am a big fan of Alisyn Camerota, FOX's hot news reader on FOX and Friends. I especially like her when she's in a hot leather skirt. Alisyn's return from maternity is almost closing in on 1 year now (time flies), and she's been appearing on her regular spot reading news in the morning.

What strikes you the most about Alisyn is her beautiful teeth. If they're real, they are almost perfect. It makes her smile so dynamic. Other than that, she has a nice set of legs. If there is anything that probably isn't very flattering, it's her waist, it looks like she's still carrying a little fat from her child bearing. But overall, Alisyn is one sexy mama.

This is what Alisyn's wikipedia page says:


Alisyn Camerota (born June 21, 1968) is an American television news anchor for Fox News Channel.

Based in New York, Camerota returned from maternity leave on April 2, 2007. Her new position will be hosting the 6 AM hour of Fox & Friends as well as doing the 7-9 AM news update segments. In November 2007, Camerota started her own blog on the Fox and Friends called the After the Show Show. In her blog, she anchors a segment with embedded video of her fellow Fox and Friend anchors of Brian Kilmeade, Steve Doocy, and Gretchen Carlson. This is usually taped after the main show is off for America's Newsroom. You can see these videos on Alisyn's blog on Fox News Channel. Prior to her maternity leave, she was a co-host of the weekend edition of the same program, in addition to regularly appearing on the Friday edition of Fox & Friends 1st.

Prior to becoming a program host, Camerota was a correspondent for the network's Boston bureau since joining the network in February 1998, reporting on a number of different stories and contributing to the network's affiliate service, Fox News Edge.

Before joining Fox, Camerota worked at a number of different stations, including WHDH in Boston, WTTG in Washington D.C., and for Fox's national program, America's Most Wanted. Prior to the broadcast network's, she also did some work for Koppel Communications, where she worked on Ted Koppel's primetime documentaries.

Married, Camerota and her husband Tim Lewis welcomed fraternal twin daughters on March 25, 2005. On September 2, 2006, she announced that she was expecting her third child, Nathaniel Andrew Camerota who was born January 4, 2007.

A montage of various Alisyn clips on the couch and also standing up,
This clip is a little annoying mostly due to the music, but otherwise, it shows Alisyn and all of her hotness,
There are tons of screencaps of Alisyn (lots here on the blog), so I'm just going to add a few others, some off-camera ones,