If you're a sports fan (and chances are high that you are), you'll recognize both the name and face of Erin Andrews of ESPN. Erin is probably the hottest sideline reporter since I can ever remember. Here, Erin was reporting live on the sideline at the Wisconsin vs Iowa St. game, and looking certifiably delish.

Love the face-painter in the background, he's staring right at Erin's butt, (click on the pictures for the full resolution picture),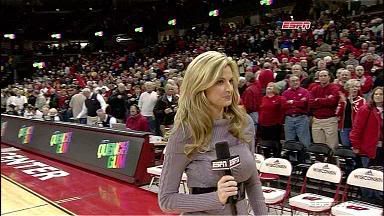 Screencaps courtesy of donkeed at the Wide World of Women forum.