Sure, your 401K just dried up, your house is foreclosed and your mortgage lender went belly-up. And just when it couldn't get any worse, you got your pink slip the other day because a 10-yr old in China can do your job now for 10 cents a day. Oh ya, that 50-grand SUV you bought a year ago is just a scrap of metal now cuz the gas costs more than the truck...

That's OK, cuz you can always drown your sorrows by gawking at the super-hotties in Jenna Lee, Rebecca Gomez and Courtney Friel partying it up on FBN's happy hour.

What a dream foursome. This must be what heaven looks like,


I love the stalker in the background, I can tell he's an assman.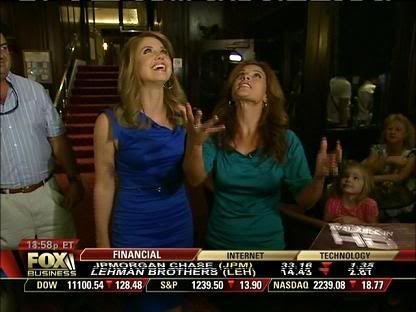 Courtney always goes for the bigger one,



Screencaps courtesy of shadow at the Reporter Caps forum. Check out his new blog at HD News Caps.