From the November 2008 issue of Vanity Fair. An exclusive interview with Maria Bartiromo, the original "Money Honey" and supporting interviews with Erin Burnett. She talks about a bunch of things, but first the pictures:

Maria in a weird Men in Black fantasy,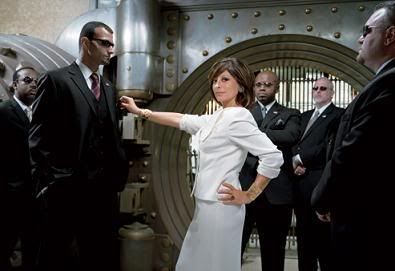 Erin getting ready for a night on the town,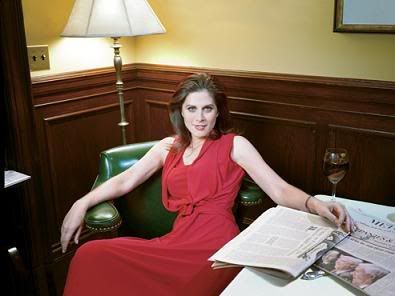 Maria's not talking about Ron Burgundy here is she? Nooo, no sexual innuendo and unsubstantiated rumors here. We've seen how Becky and Liz dress for Warren, the look in his eye... (it's good to see that at least it gets a rise out of her)
the blogs debating how good Burnett is in bed, and whether Michelle Caruso-Cabrera is or is not dating Gary Parr, the Lazard Frères banker who worked on the Bear Stearns bailout; the snarky comments from male executives at both CNBC and FBN about whether CNBC's Becky Quick and FBN's Liz Claman get interviews with Warren Buffett because he wants to sleep with them. Most viewers of cable business news are male, and it remains to be seen if Fox's approach will work as a marketing tactic, but it all infuriates Bartiromo.
Rivalry? Why would there be a rivalry? IMO, Erin wins hands down anyways. Not only is she younger and fresher, she looks like she could do cartwheels around Maria. Friends? I don't think so... Trademarking "Money Honey"? Sounds like something Erin would do. Quick, somebody trademark "Street Sweetie". Hey kids, I'm the "Money Honey", and I'm here to teach you how to pimp yourself....
"There is not a rivalry," insists Bartiromo. "Erin and I are friends." For Bartiromo the competition goes well beyond Burnett, and the pressure to stay one step ahead never lets up. "I'm always worrying," she says. "I mean, if I'm not worried about something, I worry." Last year she trademarked the name "Money Honey," and set up a company by that name to produce animated shows to teach children about money—although the company's name may change because she got "a lot of pushback" from people who thought "it was too sexy for children."
CNBC conspiracy of a cat fight?? Or male-fantasy?? Definitely male-fantasy. Heck, while we're at it, why not throw Michelle, Becky, Trish, Rebecca, Melissa into one big mud pit and wrestle naked.
"Erin and I have spoken about this," says Bartiromo, "and I just think that we both feel like, well, maybe at the end of the day someone is doing this, planting this, because it puts more attention on the network." Asked if she means executives at CNBC, she smiles and says nothing. CNBC roundly denies this, but it sort of makes sense. After all, a fight between two smart, successful, beautiful women does not make for a bad marketing tactic in a business that still caters largely to men. "I think that when people see strong, successful women, they love to imagine that there is a rivalry," says Burnett. "Maybe it's because there are not as many women. And maybe, I don't know," she says, rolling her eyes, "it's a male-fantasy thing."
Ohhh, the vanity. Maria says it infuriates her that blogs bash her with all the sexist talk, yet she prances around with her trademark "Money Honey". Who the heck does she think she is anyways?? At least Erin knows that sex sells, and she's damn proud of it...
Photographs by Martin Schoeller; styled by Andreas Kokkino. Article by Suzanna Andrews of
Vanity Fair
.