Do you think this broad woke up in the morning and said "I'm going to wear the shortest skirt ever so that everyone will practically see my crotch"? Or maybe she was clueless and thought it would be a very sophisticated look... NOT. I don't even know who she is, some wall street analyst I presume but hot DAMN she's got hot legs. The white guy in the first picture's feeling woozy, the blood is draining from my brain and heading down there. Nice bonus add with Jenna Lee, with the wicked heels, love that. Commentors go crazy...

Why wear anything at all?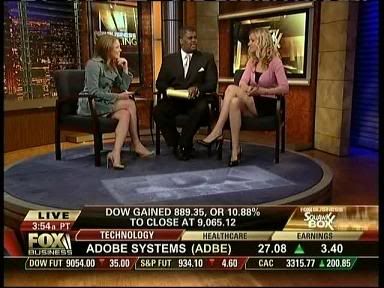 Screencaps courtesy of deadzone at the Wide World of Women forum.