Over at the 201.Net, a feature interview with CNBC news babe Becky Quick. More Internet fodder:
I have checked out [the adoring-fan site] BeckyQuick.com, but I've not spoken with the guy who set it up. My brothers get a kick out of it and they make fun of me, and they've threatened to sell anything I've left at my parents' house. It's flattering and it's funny. But it's not what we're ultimately about. The news and the stories are much more important than what we look like doing it, but it does make you laugh.
The hot business reporter look,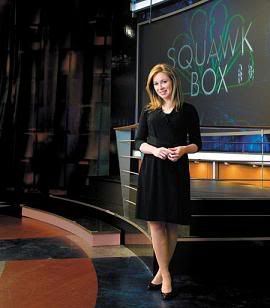 Credit tip:
TVNewser
. Photo courtesy of
201.Net
.