Over at Chikaboomer, they were talking about MSNBC news babe Mika Brzezinski in a hot strapless cocktail dress at an awards gala,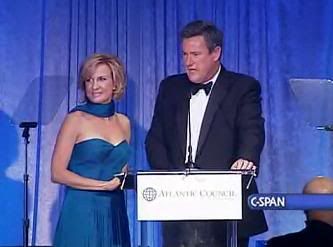 As quoted on Chikaboomer:
Mika Males It In

Even some White House 'ho bragging "At the White House, as we always like to say, we love MSNBC" and Joe Scarborough hogging the mic can't upstage the glorious Mika Brzezinski (at least in my mind) in a strapless dress that shows off her new boobs and freshened flawless face. The Obama guy's name is Kareem Dale. Keep that in mind as you explore Mika's hills and dales. I'm not one-hundred percent in love with her matching neck scarf - but she pulls it off.
Here's the youtube clip,
Credit tip: "Red Eye" at the
Reporter Caps
forum.