Over at the Wall Street Fighter, they got the ins with FOX Business goddess Jenna Lee. Some highlights from the interview:
WSF: Have you faced any major criticism as a young attractive woman on a new national business news network?
J: There have been some things I've had to handle on each one of those aspects of my job. In one respect I'm young and don't have a full resume because this is where I am building my resume. Then there's me being in a place where business news is not established and we're trying to find our own voice.
...
WSF: So have you seen some of our previous Wall Street Fighter posts about you. Do you ever read stuff like that?
J: Of course I did! I always have to do a little research on what's being said about me. One of my friends had sent me the "Shiksappeal" one.
...
WSF: Just good search engine optimization, I guess. I don't think we were that bad though, were we?
J: Are you kidding? You guys were fine! I would be lying if I said I didn't Google to see what popped up. If you're new in the industry and you're talking to public relations people that don't know anything about you, be sure to know what pops up first. Some of that other stuff that pops up is total crazy talk. Some of it is harsh and some of it is just not fair. But it's on the Internet, so there's not much you can do about it.
Behind the scenes, Alexis on the right, Jenna on the left,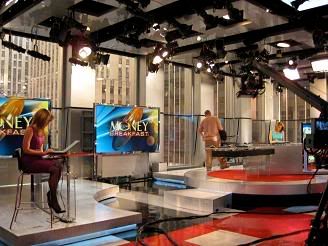 From yesterday,
Credit tip:
TVNewser
. Photo courtesy of
Wall Street Fighter
, screencap courtesy of shadow at the
Reporter Caps
forum.