I don't think I could pull a day trip like the fellas at Wall Street Fighter did last week. Imagine being lucky enough to be chaperoned around the trading floor of the NYSE with FBN hottie Nicole Petallides.

Up close and personal with Nicole,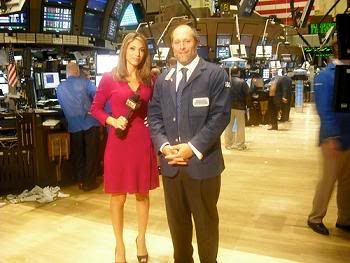 Some interesting tidbits,

Vanity Fair released an article recently from its November issue called "Who Is Wall Street's Queen B.?" ... A few disparaging mentions of FBN cast them as skimpy-dressing-ditzes, an image Maria Bartiromo expressed she was none too happy to witness.

When asked about the VF article, Nicole acknowledged that she did read it, but put on her serious reporter face and said 'no comment', ending any further discussion. However, given Nicole's extensive background on the exchange (she has over 10 years experience down there, working previously with WPIX Channel 11 News, Bloomberg TV, CNBC and Dow Jones' Wall Street Journal Report) and her presence on the floor, you'd be kind of disappointed in making that assumption about her.
Hmm, and then to the pranks,
Nicole also explained some of the pranks her and her good-time trader buddies have played over the years. Ranging from throwing baby powder on someone's freshly shined shoes to planting perfume and lipstick all over a recently married trader's clothing. Those hooligans, they're incorrigible!
Pictures courtesy of WallStreetFighter.