On FOX in NYC this morning, hotties Jodi Applegate and Andy Adler duel it out in an arm wrestling match. I hope they take it up a notch next time, strip down, get oiled up and get into a mud wrestling match. Heck, why not make it a queen of the ring and throw Christina Park and Megan Glaros in there too.

Anyways, for all you wondering, Jodi cheated first and won. Then Andy beat Jodi later, blah blah blah. They both looked HOT...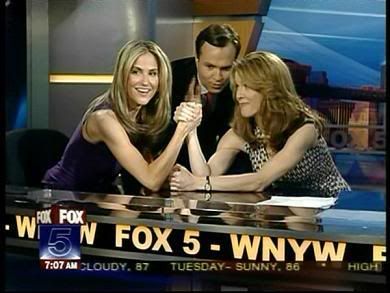 Screencaps courtesy of slashasterisk at the Reporter Caps forum.