McCain continues to impress by surrounding himself with hotties like Nancy Pfotenhauer. A forum poster posed this question about Nancy appearing on CNN so I figured some of y'all commentors might want to throw in your 2 cents. What the heck is that stickin' out of her crotch and out of her skirt?? Hem from her panties? Toilet paper? A used tampon? A used diaphragm? This conversation is digressing...

Nancy, Nancy, Nancy, betta' check yo' self before ya wreck yo' self,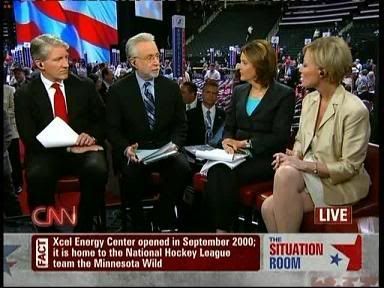 Screencaps courtesy of DeadZone at the Wide World of Women forum.