Now that the Democrats had all their fun last week, it's time for the Republicans to kick it up a notch at the Republican National Convention. Megyn Kelly and the rest of the traveling groupies went from Denver to St. Paul to catch all the action live. I love the first camera shot, isn't it a classic with some dork with the thumbs up in the background, almost as stupid as the 'V' behind the head. The next camera shot is great, almost caught Megyn in an upskirt, damn that would've been priceless. I'd love to one of the camera guys down there on the floor though, I bet they can get great leg shots.

Megyn is the hottest thing in Denver,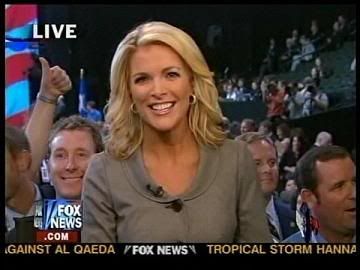 Screencaps courtesy of Sandman at the Reporter Caps forum.