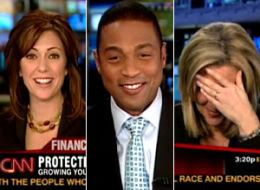 I'm surprised I missed it yesterday as I usually am watching CNN when Kyra Phillips and Don Lemon are on. This comes via
TVNewser
and the
Huffington Post
.
In a segment with the hot Gerri Willis, Kyra Phillips joked with Gerri and Don about a threesome calling it, 'a reverse oreo'. Gerri was blushing, Don was laughing and Kyra was licking her lips. Here is the transcript,
Gerri: Alright Don, you come too.
Kyra: We could bring him along with the girls.
Gerri: Come on!
Kyra: He's paying! Thanks, Gerri.
Don: A little sandwich!
Kyra: Ooh!
Gerri: Whoa, I have to go now!
Kyra: Yeah, good time. You don't want to talk about the reverse oreo!
The video is
here
.